This week India reported that over 32 million people had so far contracted COVID-19 and there had been over 432 thousand deaths. These figures are astonishing. In Australia, it is hard to even comprehend such numbers. This is a reality for our RNDM Sisters living and working amongst many of the poorest in India. Restrictions and lockdowns to try and control the rate of the infections, which we've also experienced in Australia, play out very differently in India where it can make a difference to whether a family has enough food to survive.
Our Sisters in India put out the call for help and the Australian Province and their partners, including Sacred Heart College Sorrento, were able to respond with donations that have been used to purchase food, medical equipment and other necessities for very poor families within the communities where our RNDM Sisters minister. The ability to be able to provide appropriate support on the ground, quickly and easily, to the people most in need, is a key benefit of the strong links that exist within the RNDM Congregation between Provinces.
Food for Families in North East India
In North East India, rice, sugar, dal and refined oil was purchased and bundled up to be distributed to families. Some of the families have only one parent able to work and being daily labourers or street vendors means during COVID they have had no income at all. Our project organiser in Shillong when asked to comment on the learnings from the food package distribution said, "it gives hope and encouragement when we share our tangible love in the form of food items" and "it invites us to be sensitive to the needs of the people around us".
Teamwork in India Central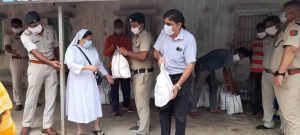 In India Central collaboration was an imperative. In Kolkata, our Sisters along with the Loreto Sisters teamed up to distribute meals to a quarantine centre for people afflicted with COVID-19. Produce was purchased, such as vegetables, rice and pulses, cooked and packaged and distributed to those in need at the centre.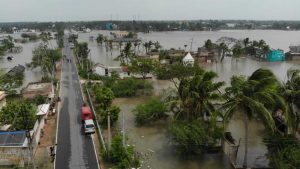 The area of West Bengal as well as dealing with COVID has also been seriously affected by flooding caused by Cyclone Yaas, so food kits were prepared by our RNDM Sisters and distributed by the Mother Theresa's Sisters.
Medical Care Kits in Almel and Bidar
In Almel and Bidar in India South, the priority was to provide medical care kits for frontline workers who are going from house to house performing COVID tests. There is no Government provided PPE in these areas. Teachers and home guards were also included and the Sisters were able to provide 60 frontline workers with a medical care kit which included a thermometer, masks, face shield and other important items. The teachers were relieved to be able to protect themselves, their students and their families. It gave the parents some confidence to be able to send their children back into school.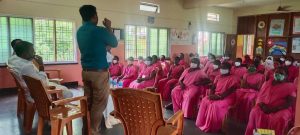 A Doctor addresses Asha (Accredited Social Health Activist) workers on the medical care kit distribution.
These children are attending outdoor tuition classes because they do not have any IT access in their homes or villages.
We share these stories and photos with you as our way of appreciating your generosity to our Sisters who are helping the poorest of the poor in India during this very difficult time.