It was February 1961 and my mother and I had come to Highgate to make the final arrangements concerning my joining the convent. During the interview I was asked would I be prepared to be sent to a missionary country. My mother answered for me, "You'd like that wouldn't you Veronica!"
Twenty-one years later after two years teaching religion in government schools in the Southwest of Western Australia, teaching in primary schools in Mt Lawley, East Kew, Katanning and the ACT, I finally left for Peru via Canada, arriving in Lima in February 1982. My mission was to be Ilo, a Port city on the southern coast of Peru.
Since my Spanish was very limited, I spent a lot of time chatting to Faustina our wonderful cook as she prepared our meals. She was my saviour, and I obviously wasn't the first student to benefit from her gracious and understanding ways as she guided me into the joys of learning a new language. Though I struggled to communicate I found the Peruvian people very accepting and there was always something to do, either accompanying the Sisters on their various apostolates or just immersing myself in my new surroundings.
As the Americans had a copper smelter in Ilo many were fortunate to find work there.  Being a coastal town, this also afforded opportunity for employment as well as the local markets.
The surrounding hillsides became invasion areas for families who migrated from the mountains in search of a better life or just to escape the Sendero Luminoso (shining path) terrorist group who were very active in the villages.
At the end of 1984, I left Ilo for home leave. Returning to Peru in 1985, via Cochabamba, Chile, I was given the opportunity for an intensive six week language course which gave me confidence for the next phase of my missionary journey.
Candarave, 3,500 metres above sea level in the Andes Mountains, a six hour journey by bus…less in our trusty Jeep. I was to work in a Priestless Parish with Sisters Irene Oliver and Patricia Orban, RNDM's from the Canadian Province.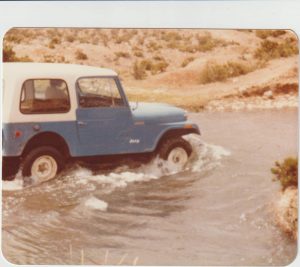 As the saying goes, we could Hatch, Match and Dispatch! Baptise, officiate at weddings, and assist people at their death. What we could NOT do was consecrate the host or give the Holy oils!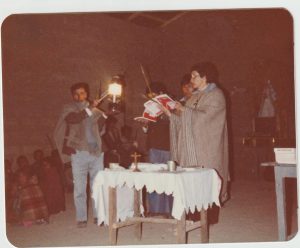 Our role was mainly Sacramental preparation and communion services in the Parish church and surrounding villages. The latter happened in the evenings as the people spent their days tending their terraced fields of potatoes, corn, etc and milking their cows to make cheese, which they did on the spot, and pasturing their sheep.
When we managed to find a Priest to celebrate on special occasions, Easter etc, we would program first communion and other sacraments. They would also consecrate enough hosts until the next visit. Failing that we often had to go down to the coast, find a Priest celebrating Eucharist and leave our ciborium of unconsecrated hosts on the altar for future communion services in our parish.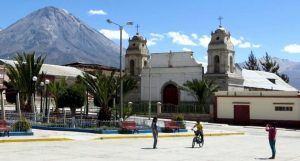 I left Candarave, sadly, at the end of 1987 for home leave and sometime later RNDM's withdrew from the area. A part of me is still in Candarave and the surrounding villages, with the simple farming people, especially in Calientes (hot springs) where Patricia and I walked for many hours with our catechist guides and two donkeys carrying our sleeping bags, etc. to visit with the families in their homes and share the word of God.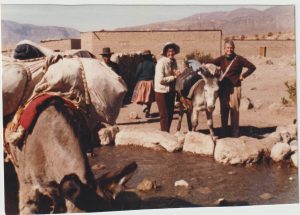 The remoteness, the surrounding mountains, the canyons, the solitude, the vastness, and the clear blue sky all spoke to me of the majesty of God.
As Teilhard expressed it;  "Christ of glory hidden power stirring in the heart of matter glowing centre of the universe…etc"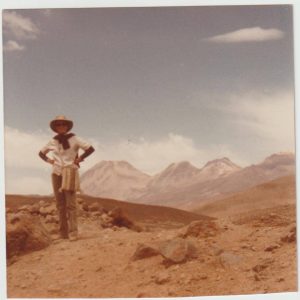 After my home leave I stayed in Perth to do some reverse mission…speaking in parishes about my mission and then I returned to Peru again in January 1989. Ilo was to be my final Mission though I had spent a brief time in Arequipa living in community with young Peruvian women who were in the formation program.
Since my Spanish had improved, I was more confident and able to enter more fully into the Catechetical program in the Pueblo Joven (young town) of Ilo, working with Jesuits and a Peruvian sister from a local congregation. Of course, for most missionaries it isn't all about 'work'!
Peruvians love to festejar so there were endless occasions to celebrate and enjoy each other's company.
"Catechesis Familiar", Family Catechetics, where the parents accompanied their children on their journey towards the reception of the sacraments under the guidance of the priest and the Sisters, was my main activity in Ilo and one of my most satisfying. In the company of those simple hard-working, faith filled men and women I learnt so much about myself and my faith. Another part of this program that greatly impressed me was the involvement of the Youth Groups. Saturday afternoons they accompanied the children, playing games, singing hymns and generally being like big brothers and sisters….part of God's loving family.
Towards the end of my time in Peru on the 21 May 1991, the shocking news reached us that Sr Irene McCormack, an Australian Sister of St Joseph had been killed by terrorists in the town of Huasahuasi.  Irene was shot by a young woman as she lay face down in the town plaza with four other men. All local government officials.
Sister Barbara Cameron RNDM from New Zealand and I travelled to Huasahuasi with a Columban Priest, the leader of the Sisters of St Joseph, Sr Mary Cresp and two other sisters of St Joseph. This is a whole other story that left a deep impression on me and deserves to be told in another place. May the soul of Irene, and all missionaries who gave their lives for the people they served, rest in peace.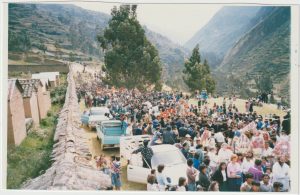 During my 10 years in Peru the Shining Path terrorists had been very active but despite the publicity it was never a major concern for us. However, in September 1992, Abimael Guzman their leader and founder, was finally arrested and most of the country breathed a sigh of relief. Coincidently, as I write this, news has come to hand that the infamous leader died in prison on 11 September 2021.
It was December 1992 and after much soul searching, I had decided that it was maybe time to say goodbye to Peru. Only now, after taking time out to share my story, have I realised what a gift those ten years were. Did I leave at the right time? I will never know but I am grateful to the Peruvian people for their love and acceptance and to my Province for giving me that opportunity…. now it was time to give something back.