Zeal prevails over everything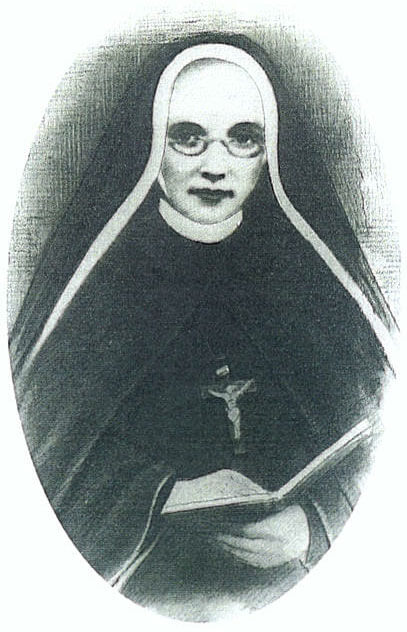 Adele-Euphrasie Barbier
Mother Mary of the Heart of Jesus
4 January 1829 – 18 January 1893
Born in Caen, France
Euphrasie Barbier was a young French woman whose heart was fired for mission when she heard a visiting missionary bishop preach in her Parish Church. Following her dream, Euphrasie left France and spent ten years in the slums of London, England with the Sisters of Calvary, and this is where she learnt to read and write English and interestingly over the years all her foreign missions were established in British colonies.
But Euphrasie yearned to be a foreign missionary and she was soon joined by women eager to go beyond country and culture for the sake of Jesus and his liberating Good News. Her desire finally became a reality when, in 1861, she founded the Congregation of the Sisters of Our Lady of the Missions in Lyon, France.
By 1864, Euphrasie was preparing her first four young, new professed missionaries to board a ship from London for Australia to eventually settle in Napier, New Zealand at the request of the parish priest. The Sisters' were required to run a girls' school.
Around this time Euphrasie realised she needed to have her Congregation recognised by Rome, to provide some independence from other institutions. It was arranged for her to have an audience with the Pope, who spoke to Euphrasie about her new Congregation and its aims. By the end of 1867 Euphrasie had received official Church approval of the Constitutions, although it was not until 1877 that the Congregation was officially approved by Rome.
Let us love him in joy and thankfulness
Let us love him in recollection and prayer
in studies and work, in rest and activity,
Oh, yes! Let us love him always,
and let us love one another in him.
Euphrasie Barbier, October 1865

Sisters continued to go out as missionaries to New Zealand and the Pacific Islands, but until 1872 Euphrasie herself had not made the journey. When she finally did accompany several new missionary Sisters to New Zealand, she suffered from terrible sea sickness on the long sea journey and arrived exhausted. Over four years she experienced great joy visiting the Sisters in New Zealand and the Pacific Islands and they, likewise, were very happy to have their leader amongst them even if for a short time.
In 1880, Euphrasie established a new convent in Sturry, England with eleven Sisters staffing a large boarding school. By 1882, she was also planning to send Sisters to India at the behest of the Bishop of Chittagong.
Euphrasie lived with asthma and during the cold winters suffered with ailments such as colds, bronchitis, pneumonia and heart failure. Following a particularly long illness, she recovered enough to visit the convents throughout France and in England. By the time she reached Sturry, England she was very weak again and was talking openly about death. On 18 January 1893, aged 64 years, and surrounded by the Sisters in Sturry she took her last breath. Euphrasie was laid to rest in the chapel at Sturry.
Basilica of Notre Dame de Fourviere
Lyon, France
Euphrasie was a great letter writer and her letters are still being deciphered and translated. Her letters and memories of those who knew her, show her as a woman of faith, impetuous will-power, cordiality and her very real concern for her Sisters and for those among whom they worked. Euphrasie was a truly contemplative missionary woman.
By 1961, the centenary of foundation, the Congregation of the Sisters of Our Lady of the Missions had more than a thousand Sisters living in 95 houses in nine provinces: Britain, France, New Zealand, Australia, Canada, India, Burma and Vietnam
At the 1968 General Chapter, the decision was taken to return to our missionary thrust and Provinces were encouraged to open new missions. In 1969 Australia went to the Diocese of Mendi, Papua New Guinea and in 1970 to Broome, WA.
In 1947 serious work was begun on the cause of Euphrasie's beatification. Her body was exhumed and found to be incorrupt. More importantly, the research involved in the necessary investigation of her life did much to clarify the development of her spiritual and theological values.
The theology which underscores Euphrasie's Charism is very clear in the choice of title for her Congregation:
To the ordinary person this title means that we devote ourselves primarily to the foreign missions, under the protection of Our Lady. But for us it has a much deeper meaning. Mission means sending. Angel means sent, so does Apostle. Yet, God is the only one sent. The Father sends the Son, the Son sends the Holy Spirit, but these three persons are inseparable and work in unison for the sanctification of Souls.
14 January 1870

The gift to which Euphrasie Barbier felt herself drawn was contemplation of the Trinity and the Divine Missions. She explained this:
We who are nothing do not have in mind our own poor missions but solely the Mission of the Incarnate Word who was sent by god his Father to redeem the human race and the Mission of the Holy Spirit sent by the Father and the Son to sanctify the Church. This is the reason for the existence of the Institute . . .
22 May 1890
Euphrasie's passion for mission lives on today through the Sisters who have embraced her legacy of spreading the compassionate love of God to all peoples especially the most disadvantaged and marginalized in our society.
Special thanks to Sister Mary Philippa Reed RNDM for her beautiful book "Euphrasie" which we referred to in writing this brief history.
Euphrasie's passion for mission lives on today