Compassionate missionary women, nurtured in times of reflectivity
"Filled with zeal, we witness and proclaim the gospel message of love, unity, peace and justice." Constitutions Article 34

Education has been at the centre of our Mission from our very first school in Western Australia in 1897. Within twenty five years of the first school our Congregation was so well established and had such a fine reputation for teaching that an invitation was issued to come to Victoria to establish a school and convent in Donald. So followed many years with schools flourishing in Western Australia and Victoria.
With a particular interest in education of aboriginal children, pioneering schools were founded in Wagin, Narrogin and Katanning in WA and later the Kimberley Diocese in Broome, Beagle Bay, Gibb River, Derby and Lombardina. The Sisters, true to their missionary heart, were called beyond barriers of race and discrimination to provide basic literacy, catechism and music. They always included aboriginal reserves on their pastoral visits.
Today, we maintain close contact with several schools in Perth and Melbourne and count many of our past students and families amongst our partners.
When charity and union of hearts reign in community the Lord is there
Our contribution now to formation is by bringing young Sisters from Asia each year for educational opportunities. Some come for English language learning in preparation for a 6 month international program in Davao prior to their final vows.
Other international student Sisters come for post-graduate studies. While others come to Sacred Heart Girls' College Oakleigh, Victoria and Sacred Heart College Sorrento, Western Australia on a vocational training visa which allows them to remain in Australia for one year and participate in an immersion which enables them to broaden their perspective and experience in education. Many of these Sisters become Principals of large secondary colleges on returning to their home provinces.
All these student Sisters live in our communities, supported within their studies by our Australian Sisters and experience RNDM life in the Australian Province. All of the Sisters studies and living expenses are funded by the Australian Province, as we see this as our contribution to International formation for RNDM Sisters.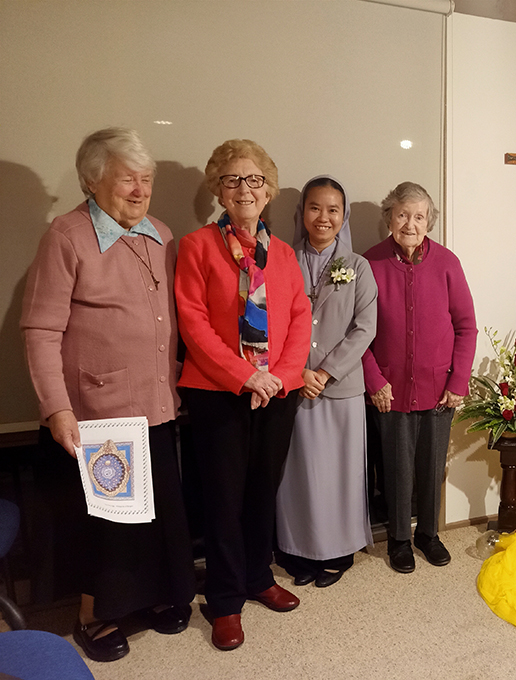 From this collaboration flows a richness and vitality
You are invited to join us and become a partner in mission with the RNDM Sisters throughout the developing world, to provide opportunities of lifting people out of the poverty cycle through skills development, education, micro-credit projects and health care.
Prayer Partner
One who would pray for our missions across the world and be interested in attending our regular partners days.

Volunteer Partner
Some missions appreciate volunteers who will bring particular skills for a defined period to support and develop the project.

Financial Partner
You may wish to support our missions through a financial contribution.
Filled with zeal, we witness and proclaim the gospel message of love