How – and why – did I come to be working in Senegal?
Well, of course, the answer to that goes back to my childhood in Charlton, in north-western Victoria, where all my primary and secondary education was with the Sisters of Our Lady of the Missions. From the age of about 12 years, I can remember being captured by the stories of the missionaries in India, and also by reading about the lives of Albert Schweitzer in Africa, of Tom Dooley in Laos, of Fr Damien in Molokai.
During the final year of secondary school I travelled to Western Australia and joined the small group of girls at OLM Fremantle, at what was then called the "Juvenate", for the final two terms of 1963, at the end of which I acquired my Leaving Certificate. I fell in love with WA, with the bush areas, with Kings Park and Yanchep, with the sunshine – like home, but so different! This certainly encouraged me to return the following year and join the novitiate in Highgate, Perth. The years that followed included a mix of religious studies, short periods of teaching practice, studies at the University of Western Australia and Secondary Teacher Training College which culminated in 1972 with gaining a Bachelor of Science degree, a Diploma of Education and Teachers Certificate. Among the happy memories of those years are the two years spent living at Point Peron in Rockingham, and the January holiday period of staying at Katanning in the south west of WA. We were able to visit so many of the towns and the surrounding bush areas that later became part of daily life for those sisters on the Motor Mission. In mid-1972 I experienced the joy of making my Final Profession in a celebration that took place in Charlton, among my enlarged family and parishioners and friends I had grown up with.
Sacred Heart Girls College Oakleigh, Victoria
So, the next step in "mission" took me back to Victoria, to Oakleigh's Sacred Heart Girls College for 6 years! The most attractive aspect (for me) of those years was the contact with students, families and some staff whose origins were "elsewhere": although the numbers and variety of cultural backgrounds were not nearly as great then as they are now. I still remember the morning I visited a Year 7 class to find out how many languages we could use to greet one another – my delight to discover about 18!! – and my own ignorance of the existence of "Macedonian"! It was a good place to learn about "culture" – and much else! All the time my imagination was being fired by the RNDM Congregations move into new places of mission around the world: Papua New Guinea, Kenya, Peru, Samoa – and Senegal!
Nulungu College, Broome, Western Australia
In fact the next step was a little closer to home! At the end of 1978 I was able to visit Broome (in preparation for moving there from the start of the following year). Our Sisters had joined the Christian Brothers at Nulungu College to take charge of the Girls' section, together with some St John of God Sisters, lay teaching staff and lay missionaries who looked after the boarders, Aboriginal girls, from remote communities across the Kimberley region. The six and a half years I spent at Nulungu were uniquely precious. They were also full of challenge, of listening, learning to take time, to find a different rhythm. Above all it was – and still is – the people of Broome who teach me the central importance of relationships, of telling stories….
Time in Rome
And so, to 1985 when I was able to join other RNDM Sisters in Rome – for a session in preparation for being "sent on mission again". This was four months of learning what that might mean at a new stage in our lives (and as our Congregation looked again at what/where are the greatest needs). There were 13 of us, from British Isles, New Zealand, Canada, India, Bangladesh, Kenya, Peru, Papua New Guinea and Australia.  Some had already a long experience of working outside their own country, others none; we were given the opportunity to have a month or three prior to the session in one or other "mission country". I chose Senegal!
And so . . . to Senegal
My introduction began during West Africa's rainy season, when the country looks green and beautiful – the long dry season reveals its other faces!  For 4 weeks I joined a small group of Sisters from France, Vietnam, New Zealand and Canada who were living in two quite different places: Mboro, a small town near the coast, and Ndondol, about 100 km distant towards the interior, a village where people were still living in a "traditional" situation.  I began to get some idea of what it could mean to live in a country whose population is 95% Muslim, with French as the official language (and a variety of local languages), where the Catholic Church was visible in some large schools, a hospital and several large churches in the main cities, and at the village level in basic health care. Clinics run by various congregations of Sisters, most originating in France or international groups like our own.
By the time our "mission studies" session ended in December it was already decided that in January I would go directly in January to join the Ndondol community which then consisted of just two sisters: Marie Elisabeth Le (Vietnamese but who had lived in France for many years before going to Senegal as one of the first three RNDMs in Mboro in 1971), and Patricia Boyd (from New Zealand, who had spent a year in France before going to Senegal to start work in Ndondol in 1984). We were very much part of the French Province (until 1995), with frequent visits and support in personnel and resources from the Sisters in France, lay volunteers and their friends. In Mboro, the four sisters (Myriam, Marie Odile (Vietnamese), Pauline – all from France – and Dorothy Dickson from New Zealand) were responsible for the large clinic, the parish primary school and kindergarten, as well as for parish catechetics.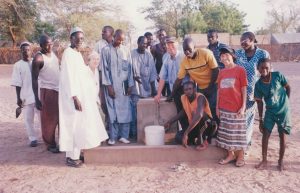 In Ndondol, the Sacred Heart Brothers from Canada had started a primary school, and also an agricultural project that had grown out of the provision by Caritas of water from a number of deep bore wells. Senegal is a dry country, part of the Sahel, and WATER provision was a basic need during all my years there – still is, one of several similarities to most of Australia! The idea was to support the growing of vegetables (market gardens) as an activity for local people during the dry season, to improve nutrition, and also supply some income. In practice this was focused on groups of men in Ndondol itself and surrounding villages, partly because most had some basic schooling, whereas hardly any of the local women had been to school at all. The Sisters had been invited to "work with the women"!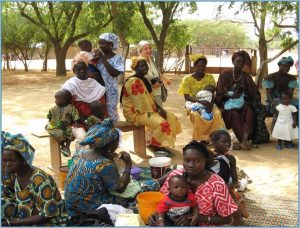 During the months prior to my arrival many meetings had been held with the women, assisted by the trained Senegalese who worked alongside the brothers. All this time, and this was ongoing, Patricia and I were learning the Wolof language (Marie Elisabeth could already use it, and she was already offering sewing classes to several groups of women). It became evident that the women wanted to learn more about basic health for their children and themselves, but also to learn to read and write. The outcome of all this was that we worked with the local government nurse and other health workers and midwives to organize a mass vaccination program for all the smallest children in the 16 villages belonging to the Ndondol "rural community". This also involved working with the chief of each village, as well as with the chief Doctor in charge of the local health/medical administration. Eventually we were able to hand all this over to the local government clinic, though we continued to check on the vaccines received by babies and young children through the health and nutrition program set up by Patricia with the help of Philomene (a local woman trained in health work by Sisters in a nearby clinic).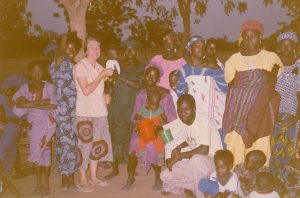 While Patricia and Philomene expanded gradually their work with "mothers and babies", I got to know the local village teachers who might be interested in spending a few hours each week on basic literacy classes (in either Wolof or Seereer language) for the women. This involved creating our own materials, or finding others who had already done the linguistic work and were happy to share/sell to us: mainly NGOs or religious groups like the Lutheran missionaries from Finland, or the Summer Institute of Linguistics people who ran courses for our teachers, or former American Peace corps workers. We also found some wonderful local teachers who later went on to find good jobs as literacy work developed.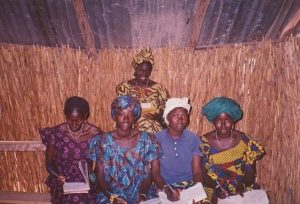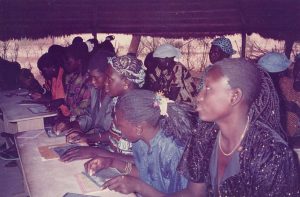 When I moved to Mboro in 1993 I found others in nearby villages who wanted to learn. It was also an opportunity to work alongside the clinic team, especially in their regular mobile outreach for vaccination or prenatal programs or, eventually for AIDS education.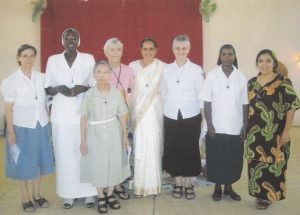 During the years that followed there were many changes in our RNDM group, as Sisters arrived, some for shorter periods of "mission experience", others for many years of sharing our life in Ndondol or Mboro.
After a sabbatical in Australia from 1999–2000, I returned to Ndondol, working with village groups and funding agencies (and friends) in Germany, Netherlands and Luxembourg, on projects for water supply, with Dorothy on "economical cooking stoves" and with Philomene and others aiding children with a disability.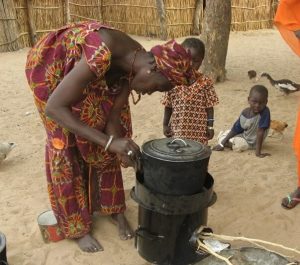 An economical cooking stove
Back to Perth, Australia
The final years of my time in Senegal were mostly spent in Mboro, assisting with the administration of the clinic (with its laboratory), and working on plans for its renovation and extension. Above all, the joy of welcoming Sisters from India, Bangladesh and Vietnam to continue our journey, our "walking with" the people of Senegal, helped me to hear the call of mission – back to Australia, to Perth.
A final photo to illustrate my gratitude for all I received from so many in Senegal. This photo was taken  around our dining room table in Ndondol. Anne (Kenyan RNDM) and I with the team that came to help us set up a local health insurance scheme. It is now run entirely by local people, it goes from strength to strength and includes Muslim and Catholic working together.