My RNDM missionary vocation certainly had its beginnings in Sacred Heart Parish and School, Oakleigh, Victoria. All my Primary School teachers were Sisters of Our Lady of the Missions. My secondary education began in a small room in the Primary School and continued in the new Sacred Heart Girls' College with a small student population and significant presence of Sisters on the Staff. A vocation to religious life seemed to be 'normal' in Sacred Heart Parish. My choice to go to Perth immediately after finishing school was with the expectation of being a teacher in a Catholic School in Victoria or Western Australia.
Education
The 1960's-1970's, the time o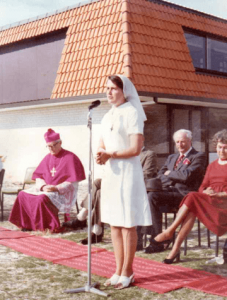 f my Formation, saw many changes in religious life following Vatican II – externally in clothing and removal of cloister. During this time, I completed a Bachelor of Science and Bachelor of Education at the University of Western Australia and was involved in the initial story of Sacred Heart School Sorrento, Western Australia. At the beginning it was very small with a predominantly boarders' population. I was part of the evolution to an active Board of Management, Co-education and handing over to the first Lay Principal. Working with the Community of Sisters and Lay Staff this was an experience of being the planter of a seed which has grown into a strong tree.
Overseas Mission
In 1984 there was a personal shift in Mission when I was chosen to be a member of the Congregation Leadership in Rome. The next six years were a time of growing and understanding of the Mission of the whole Congregation. There were many enriching experiences visiting the Sisters in various countries and seeing their missionary involvement. For Vietnam, it was a critical time and the reopening of the country. While the Sisters had lost their schools in 1975, they were very close to the people and involved in outreach to the poor. In Latin America I had the opportunity to join a Program in Columbia organized by a Mennonite Missionary looking at the reality of Latin America and Liberation Theology and to see this unfolding in our mission in Peru and Bolivia. These years also involved a growing understanding of the Church in Africa through involvement in parallel programs of the Synod of Africa and the opportunity to visit Kenya. In Senegal and Ethiopia, two of our New Zealand Sisters were working in a Dispensary belonging to the Daughters of Charity just across what would become the border of Eritrea.
Called to Kenya
After twelve years in Rome, I felt the call to Kenya. Our Sisters from England and Ireland had begun the mission there in 1967 soon after the beginning of Independence in the country. Their involvement had been largely in secondary schools, catechesis and health care. In 1985 the Congregation had received its first Kenyan Sisters. In Kenya I was asked to be the Provincial so much of my time there was in Administration overseeing the process of Formation and Development of new ministry outreaches. The Kenyan Church has often been called 'the Dancing Church'. It is a young vibrant Church struggling to face many of the challenges of an evolving democracy and global realities. I had the privilege of sharing faith in different ways including guiding people to pray with Scripture in daily life.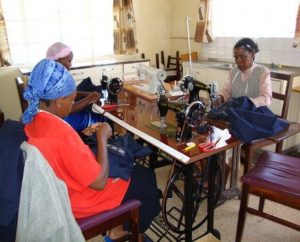 During the time I was in Kenya we commenced a program for women in Machakos. After a time of investigation with the women it was decided to begin training in Dressmaking. The Program has an emphasis on Women's Rights and Peace Making. The Health Centre in Matuu was further developed to include a Support Centre for those affected by HIV/AIDS and programs for early detection of cervical cancer. The main emphasis is on maternity and Mother-Child Care.
For me a very special experience was the involvement in the Tei Wa Ngai (Mercy of God) Program for Children with Disability. This had been begun by a Dutch laywoman, Marjan, who had trained 12 heath workers. It was a wonderful moment in 2001 when she returned from Tanzania and officially handed over the program to RNDM's with three years funding from the Netherlands. During the years I was in Kenya I experienced the evolution of this program with partnerships with many groups in Kenya and overseas partners whose financial contributions have enabled us to assist many families gain access to health care and special education for their children. So many people throughout the world were touched by the plight of our clients and wanted to make a difference. The pictures of these children evoke the memory of many individual stories of giving new hope and life through access to education, medical intervention and mobility aids. It was amazing to see the dedication of the Health Workers and the Sisters who were directly involved in working with the children and supporting the parents. My heart was filled with gratitude especially when a group of business men and women agreed to become Friends of Tei Wa Ngai and support us in our Dream to build a Rehabilitation Centre. My hope for the future was expressed in the planting of a tree on land we had received as a gift.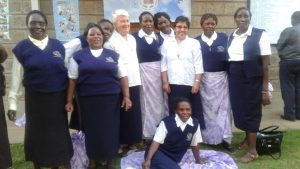 And Now . . . Back to Australia
At the beginning of 2020, as I left Kenya to return to The Sisters of Our Lady of the Missions Australia in Melbourne, I felt confident that our missionary activity would be carried on by the International group of Sisters there together with their partners in mission. Now in Australia I am finding new ways to continue to promote our RNDM global mission.