A fond farewell to Linh and My Hang who arrived in Perth in January 2019 and have been studying English in Perth and enjoying learning about life in Australia. They both completed the Davao formation program on-line this year due to the COVID travel restrictions.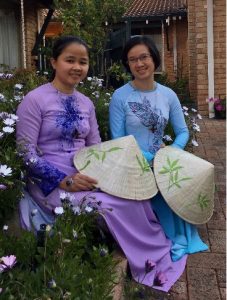 They had to register with the Vietnamese Consulate for a relief flight organised by the Vietnamese Government, and finally got seat
s on a flight departing from Melbourne on 9th December. They had to wear full PPE on the flight. It has been a pleasure for us to have these young Sisters with us for nearly two years.
They brought a special joy and youthfulness to our community and helped to keep us young! They also give us a great sense of hope for the future of our Congregation. We wish them every blessing as they prepare for their Final Vows ceremony in February 2021.