The pinnacle of my teaching career would have to be my 25 years at Nulungu Girl's College in Broome. The year was 1975 and the school enrolment was 99% Indigenous. I was young, energetic, excited and looking forward to another missionary adventure. The day finally arrived.
On the day I left for Broome, there was a long delay at the Perth Airport. One hour followed another and then another. However, we three RNDM's, Sr Julianna, Sr Marie and I, were informed that the Ansett Flight to Broome could not take off as it could not guarantee a safe landing in Broome. If we didn't have nerves beforehand, we certainly had them now! It was like music to our ears when the announcement came to board our flight and it was not long until we were finally winging our way to Broome.
We were well prepared for the big events such as cyclones, tropical heat, floods, sand flies and mosquitos but nothing prepared us for the first hour in our beautiful well-equipped convent (that had not been lived in over the Christmas break). Large cockroaches flying at us, a frog elongating itself out of the drinking tap and a mouse running around in a draw of the wardrobe!
Perhaps my friend in Perth was right when she told me I would not survive in such a remote place and that I would be back within a couple of weeks! I had to prove her wrong! And I think I did that!
Nulungu Meaning Waterhole
Soon after our arrival Bishop Jobst shared with us the symbolic interpretation of the stylised Nulungu Logo. We certainly kept this focus in mind.
"Students come to Nulungu to drink from the waters of knowledge (Nulungu Waterhole outside of Broome part of the story/cycle of the 'Wati Kujarra'). When students return to their communities, they share what they have learnt."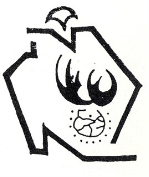 Nulungu Original Logo
History of Nulungu College
In 1974 Nulungu Girls' College was commenced, this was to match the ministry of the Christian Brothers for the Aboriginal boys. The aim of the school was that Aboriginal culture would be affirmed and taught in an integrated way with the traditional academic subjects, commerce and home economics, as well as prepare girls to take their place confidently in contemporary Australian society. The outlying communities of Balgo, La Grange, Beagle Bay, Lombadina, Wyndham, Kununurra, Derby, and Fitzroy Crossing were encouraged to send their girls to Broome for education.
Sr Pat Ratigan (St John of God Sister) who was part of the Nulungu Girls' College Staff from the beginning was our Mentor as she had many years of experience in the Kimberley and with Aboriginal Culture.
It was my first experience of working with Indigenous students so you could say it was a big learning curve for me, not only teaching all day in school, but managing the first year boarders, as well as being a mother figure to them. It was full on and turned out to be a 24 hour a day, 7 day a week commitment for the first couple of years. It had its challenges and joys but being young, healthy and active I enjoyed every minute of my time with the girls. However, it was not long until Bishop Jobst managed to bring on board Lay Missionaries who took on responsibility for the care of the boarders outside of school hours.
During long weekends and holidays with the help of other Religious Sisters in town we would take the boarders camping and of course this was another first for me! Sleeping on camp stretchers only a couple of inches from the ground, sleeping in whatever we were wearing, swimming instead of showering, whipping up buckets of sunshine milk for milo, making billy tea, cooking potatoes in the coals, and living on tins of camp pie and sardines (as the boiled eggs had been left behind). For me, this was a precious time to spend with the students as they became the teachers and taught us so much about care and respect for country. In the stillness of the night the only fear I had was hearing the snorting of the crocodiles on the bank below where we were sleeping, but we had been informed they were not man eating!
Whilst there were only three of Our Lady of the Mission Sisters in Broome initially, the collaboration and partnership with the Christian Brothers in not only teaching, but sharing prayer and mealtimes, provided a greater sense of community support and encouragement in an environment that was at times very challenging.
Nulungu was a school built on strong Community Partnership and Collaboration with the parents, Indigenous Elders, teacher assistants, as well as the Broome Community.
The school initially ran parallel to that of the Christian Brothers but gradually a move was made towards co-instruction. In 1985 the two schools officially merged to form Nulungu College. To me, the collaboration and partnership between the Christian Brothers, the Sisters and Staff brought a richness and a greater opportunity to all students.
In 1992 when the boarding facilities closed, Nulungu College combined with St Mary's Primary and at this time the complex was re-named St Mary's College K-12.
Art Department
Teaching art and craft right back in the early days of Nulungu and being a passionate art teacher, I could see the love and passion students had for this subject. My vision was to enable these students to be proud of their aboriginality, proud of who they were as individuals and be prepared to share their artistic talent and gifts beyond Broome and the Kimberley.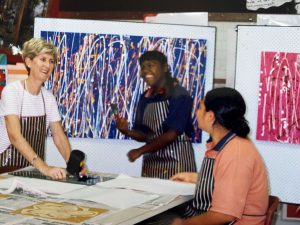 Teaching lino print
"Dreams Do Become a Reality"
In 1996 an opening came for us to enter a Western Australia wide competition the "APEX Teenage Fashion Awards". When I made an enquiry regarding entering the competition, I was advised that only the most prestigious schools in Perth enter this competition. I felt strongly that this was a golden opportunity for our students to showcase their creativity, gifts and talent with a wider audience.
Tabita won the ballgown category
The Student Brief encouraged students who had an interest and flair in fashion to design, make and model their own garments. For me this was a significant way of enabling students to be proud of their aboriginality and incorporate symbols from their rich cultural heritage into fabric print, combining both traditional and contemporary color and style. In the years following, many more students from Nulungu showcased their garments and artistic skills at the awards and not only did our students win major awards, but more importantly, it helped them develop their innate artistic talents, self-confidence and sense of themselves as people. Such a program put St Mary's College on the map enabling students to compete at a state level.
Some of the beautiful designs by the fashion students and making some finishing touches
Indigenous Youth Gallery
Another initiative was the establishment of an Art Gallery for Indigenous Youth, the first such in Australia to be part of the school curriculum. In setting up this gallery, I was targeting Year 11 & 12 students who had artistic talent and who were experiencing difficulty in mainstream education. The Gallery was set up as a small business and was organised and run by the students themselves during school hours. The course for these students was not only to 'Show Case' their art but develop their skills in business planning including the financial skills required to successfully establish and manage their own Art Gallery in the future.
The Gallery was included in the Broome Gallery Tour Company for tourists.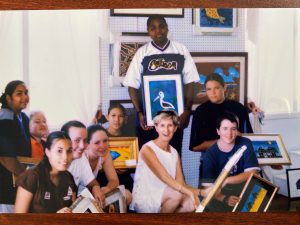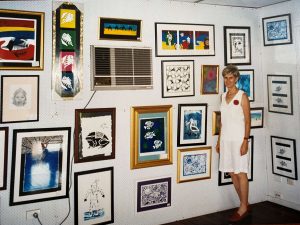 In the Art Gallery at Nulungu
Departure from Broome 2007
Even though it was sad leaving Broome after 25 years of Ministry at Nulungu I knew it was time to move on. I also knew I had made a difference in the life of the College and in the life of so many students. The principle aims of the College I could see were being achieved in the numerous students who now hold positions in professional roles as well as authority in their communities across the Kimberley and indeed across Australia.
Journey Back to Broome
In May 2021, it was wonderful to be invited back to Broome to Celebrate the 50th Anniversary of Nulungu Boy's College (1971) and 50 years of Kimberley Ministry of the Christian Brothers.
As our Qantas Flight was approaching the airstrip it seemed to hover over Cable Beach allowing us to enjoy a beautiful Broome sunset. It was truly a magnificent sight to see the sunset palette above us being reflected in the still shallow waters below.
The first evening was a celebrative dinner for all invited guests. It was a wonderful 'trip down memory lane' with so many Christian Brothers I had taught with over the years reminiscing of the early days of Nulungu.
Early the following morning we were off on a bus tour to visit the current St Mary's campus. When I was being shown around by a young teacher assistant whose face was very familiar, I asked her if I had taught her. She replied, "Not me Sister, but you taught my Gran"!  A number of guests overheard this conversation and got a lot of mileage out of this remark.
For me, visiting the primary school and seeing the renovations that had occurred over the years was mind-boggling and wonderful to see how the students were benefiting from "state of the art" classrooms. You could not help but see the joyful nurturing environment that the teachers and teacher assistants were providing for the students. It was most impressive to see in action the new initiative meeting the needs of parents and the local community by catering for all age groups.
The guided tour continued over to the secondary school where we were invited to see the new facilities as well as the growth of the Notre Dame University complex. I could not help but recall the dream of Bishop Jobst back in 1971 which has now been implemented within 50 years of the foundation stone being laid.
Later that afternoon St Mary's College invited us back to celebrate the Eucharist of Thanksgiving at the Nulungu Chapel. It was wonderful to see so many past students involved in the liturgy and staying on for the BBQ and photo display on the grounds of the old Nulungu College. A highlight for me was connecting with former colleagues, families, and associates and to see how many of the young people I had taught many years ago have gone on to contribute to their families, community and society.
Another high point of the evening for me was catching up and re-connecting with the talented and gifted Brenton McKenna, Australia's First Daily Newspaper Indigenous Cartoonist whom I had taught in Year 8. I was so proud to read of Brenton's Story in the Western Australian Newspaper a couple of months ago, and to know the struggle he had with learning, but he never gave up. He was so enthralled with comic books and to be able to give him a pass mark at the end of each semester I designed a Special Art Brief to incorporate his passion for Comic Strip Characters. Needless to say, Brenton passed the course with flying colors. I still remember handing him a copy of Christopher Hart's 'Step by Step Guide to Drawing Superheroes'. Brenton claims in an article in the Western Australian Newspaper, Saturday, March 6, 2021;
"I literally read it from front to back and inside out," McKenna said. "That one book changed everything. I decided then that no matter what I did in life, this would be something I would pursue."
According to the article: "Everyone needs to have someone in their corner and for me that someone was my old art teacher Sister Helena".
Brenton hopes his work, which features Indigenous stories and characters, will encourage other children to engage with words and stories. "It would be really great to have that kind of impact on other kids," he said. "I don't want to be the only Indigenous graphic novelist," he said. "I've had this 16-year uphill battle trying to get my own graphic novel series out.  Now to have (OLE CHAMP) in the West, I'm not crazy, people do like my work. It's good to be acknowledged."
It was wonderful to be able to congratulate Brenton personally, meet his family and wish him well in his future business. At the end of the evening much to my delight Brenton gave me signed copies of three of his books.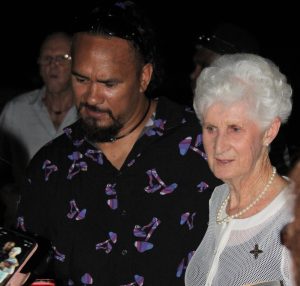 Brenton and Sr Helena – May 2021
The final Thanksgiving Celebration was a buffet dinner hosted at Notre Dame Broome Campus Hall. It was an evening of Thanksgiving, Memories and Speeches. Each guest was given a commemorative cross marking the 50th Anniversary of the ministry of the Christian Brothers in the Kimberley. Mr Mike Lake who worked with the Christian Brothers over many years handcrafted the cross, using the jarrah floorboards salvaged from the Brothers House which also housed the Indigenous Youth Art Gallery for a number of years on Port Drive.
The whole evening as well as all the memorable celebrations could be summed up in the words of St Paul "we planted, others watered and God gave the increase".
Reunion of past teachers