Sisters of Our Lady of the Missions
Australian Province
Religieuses de Notre Dame des Missions (RNDM)
Women with a heart for the world
Women Working with Women and Children
Sisters of Our Lady of the Missions, are an International Mission and Congregation of women founded in Lyon, France in 1861 by a courageous, young French woman, Euphrasie Barbier. From those humble beginnings the Congregation has spread to 22 countries with nearly 1,000 Sisters.
In 1897 the five founding Sisters of the Australian Province arrived in Perth, Western Australia to establish educational opportunities for the young.
Our Mission
Euphrasie Barbier was inspired to choose Our Lady of the Missions as the title for the Congregation – in reflection of the charism and spirit. The Trinitarian aspect of the charism provides a universal character to the Congregation's Mission.
Though the needs and conditions of society have changed, and continue to change over the years, the abiding missionary spirit of the Congregation remains alive and well. Where it cannot engage actively in evangelisation the Congregation seeks to be a silent testimony to Christ through presence, solidarity and sharing. Euphrasie believed that the Trinity itself is the source of all missionary life, therefore the Sisters to strive to celebrate joyfully communion, contemplation and mission in their lives.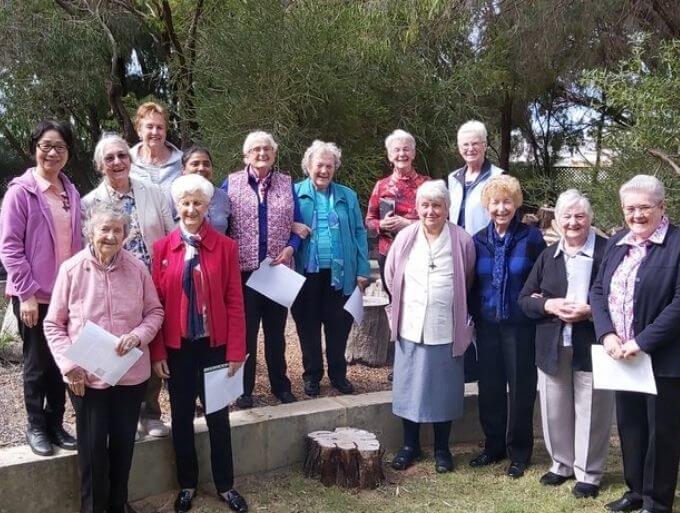 We are called to be present to and work with those who are marginalized in our world today
Education
We are filled with gratitude to see the original values of the Sisters continue to flourish at several schools across Western Australia and Victoria.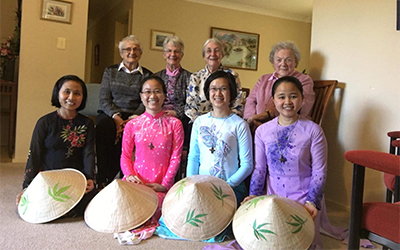 Supporting Formation
Student Sisters from Vietnam continue to spend up to 2 years with our Sisters in Melbourne and Perth to improve their English and be supported in religious life in their preparation for final vows.
Our Ministries Today
Though ageing we continue to deepen our sense of belonging to one another, the wider community of the Congregation and to our partners in Mission.
Missionaries beyond boundaries
Myanmar
Teaching women skills in weaving and sewing gives them an income to support themselves and their families and helps prevent human trafficking.
Philippines
Outreach programs in Manila focus on the most disadvantaged including the homeless, street kids, slum dwellers and provide micro credit programs for women.
Vietnam
Hostels are being provided for tribal children, orphanages, teaching, pastoral ministry and social ministry especially the empowerment of women and single mothers.
Invitation to be Involved
Our Partners in Mission are an integral part of our response to the work being done in our Mission projects. We welcome you as partners in our RNDM outreach. We aim to keep you updated with the various missionary activities of the Sisters through information gatherings and regular updates.
Gifts that make a difference
Products from our Mission project, Kawthaung Sewing Centre, in Myanmar are available for purchase in our gift shop. 100% of proceeds from these sales go back to the women in the sewing centre.